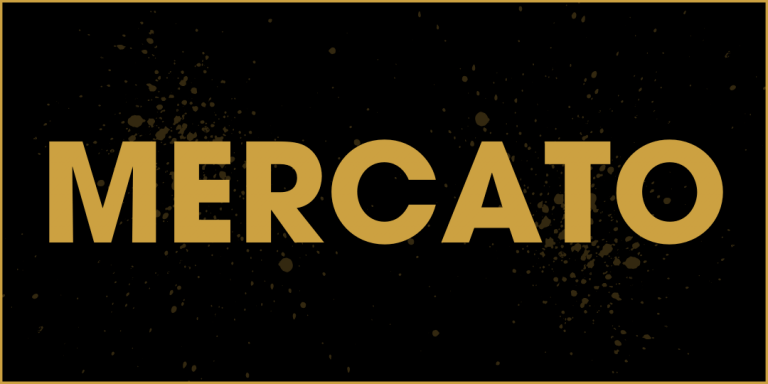 SUMMER MERCATO UPDATE
It's time for the traditional weekly update on the summer mercato! FootSider details all the departures and arrivals of this early August!
LEAGUE 1
Jordan Veretout at OM
Jordan Veretout will wear the colors of Olympique de Marseille this season. The Marseille club officially confirmed on Friday the transfer of the midfielder from Roma, and the transfer fee is expected to be between 10 and 12 million euros. This is the eighth recruit registered by Pablo Longoria this summer.
Bafodé Diakité (Toulouse) joins LOSC
Bafodé Diakité officially joins Lille. The 21-year-old versatile defender signed Friday with the Dogues for four seasons from Toulouse.
A.J. Auxerre makes Nuno Da Costa official
The former Strasbourg player Nuno da Costa arrives at Auxerre (Ligue 1) from Nottingham Forest, who had loaned him to Caen last season. The 31-year-old is under contract for two years, plus an optional year.
Thierno Baldé (PSG) arrives at Troyes
Thierno Baldé joins Troyes from Paris Saint-Germain. The 20-year-old right-back, linked to the capital club until 2023, signed a five-season contract with ESTAC on Tuesday.
PREMIER LEAGUE
Amadou Onana (Lille) officially transferred to Everton
The transfer ofAmadou Onana has been made official by Everton. The 20-year-old Lille midfielder has signed a five-year contract with the English club. The amount of the transaction was not disclosed. According to our information, it would be around 40 million euros (including bonuses).
Marc Cucurella signs for Chelsea (official)
The left back Marc Cucurella has left Brighton to join Chelsea. A transfer estimated at 65 million euros plus various bonuses of 8 million euros. The 24-year-old Spaniard emerged at Barcelona, where he had not imposed himself, before joining Getafe and then England in 2021.
Lucas Torreira to Galatasaray
Lucas Torreira, 26, had long been rumored to be on his way out of the Emirates Stadium, after spending the last two seasons on loan. The player was ready to stay at Fiorentina after his last temporary stint, but instead he will play well in the Super Lig, at Galatasaray, after reaching a deal worth 6.5 million euros.
Christian Benteke (Crystal Palace) goes to MLS
Belgian international striker Christian Benteke (31, 45 caps, 18 goals) leaves Crystal Palace to join DC United. The Washington franchise, coached by Wayne Rooney, is relegated from the MLS Eastern Conference with 13 losses in 22 games. Benteke has committed himself for two years, until 2024, with an additional year as an option.
Former PSG player Gonçalo Guedes commits to Wolverhampton
In the Premier League, Wolverhampton has a new recruit. And not the least. The young Portuguese player Gonçalo Guedes has just signed his first contract with Wolves. At 25 years old, the striker will play in the fourth club of his career. Valencia has managed to negotiate a deal for 30 million euros to sell its player.
(LOAN) – Malang Sarr (Chelsea) lands in Monaco
Malang Sarr (23) will wear the colors of AS Monaco this season. The central defender of Chelsea was expected this Monday or Tuesday in the Principality to pass his medical examination. He signed a one-year loan contract (750,000 €) with a purchase option of 12 M€ (+ 3 M€ bonus). Left-handed and versatile, he can also play in the lateral position. The player trained at OGC Nice comes to reinforce the left flank of the Monaco defense.
(READY) – Everton offers Conor Coady
Seven seasons after his arrival, Conor Coady (29 years) leaves Wolverhampton. Formed in Liverpool, the English central defender has been loaned for a year, with a compulsory purchase option, to Everton. This is a great addition for Frank Lampard, who gets a very reliable player who has played 151 of the 152 Premier League games over the last four seasons.
(EXTENSION) Cesar Azpilicueta extended with the Blues until 2024
At the end of his contract in 2023, the Spanish defender Cesar Azpilicueta has extended his lease at Chelsea for another season. Once courted by Barcelona, he will play in the Premier League next season.
BUNDESLIGA
Anthony Modeste signs a one-year contract with Borussia Dortmund
The French striker Anthony Modeste signed on Monday evening for a season with Borussia Dortmund, to compensate for the absence of several months of Sebastien Haller, affected by testicular cancer. Trained at Nice, Anthony Modeste discovered the Bundesliga in 2013, on the side of Hoffenheim, where he played two seasons before moving to Cologne in the summer of 2015. He will wear the number 20 with the BvB and will discover the Champions League for the first time at 34 years old.
Benjamin Sesko (Salzburg) signs for Leipzig
Benjamin Sesko is being considered by many big European teams, including Bayern Munich, Real Madrid and Liverpool, but he will finally stay with Red Bull. The Slovenian international striker (19 years old, 13 caps) signed on Tuesday with RB Leipzig. The German club has made official his signature from RB Salzburg, with whom he will play again in 2022-2023. Sesko will only join Leipzig, with whom he has signed a contract until 2028, next summer. His transfer is valued at about twenty million euros.
(LOAN) – Angeliño loaned to Hoffenheim
Ninth in the Bundesliga last season and therefore qualified for no European competition, Hoffenheim signed a nice move on the transfer market with the signature of Spanish left-back Angeliño, on loan for one season from Leipzig, where he is still under contract until 2025. This loan includes an option to buy set at 20 M€.
(EXTENSION) – Borussia Monchengladbach extends Alassane Plea
Although he is being pursued by several clubs in England and France, the striker Alassane Plea has extended his contract with Borussia Mönchengladbach until 2025, plus an optional season.
SERIES A
Georginio Wijnaldum (PSG) is officially on loan to AS Roma
Georginio Wijnaldum leaves PSG. As announced last Thursday, the midfielder joins Roma on loan for one season, accompanied by an option to buy 8 million euros. The latter will be activated under two conditions: that the midfielder plays half of the Italian club's games this season and that the latter qualifies for the 2023-2024 Champions League.
Dries Mertens signs with Galatasaray until 2023
Dries Mertens is heading for Turkey. The 35-year-old striker has signed a one-season contract with Galatasaray. The Belgian international (105 caps, 21 goals) had not extended his contract with Napoli, where he became the top scorer in history with 148 goals in all competitions. He would have refused an offer from Juventus.
LA LIGA SANTANDER
Paciência signs for Celta Vigo
Winner of the Europa League with Eintracht Frankfurt last season, Gonçalo Paciência signed with Celta Vigo this Saturday. The 28-year-old Portuguese striker has signed a three-year lease with the Spanish club, until 2025. The main interested party would have terminated his last year of contract with Eintracht Frankfurt to sign freely with Celta Vigo.
Isco, ex-Real Madrid player, bounces back to Sevilla FC
At the end of his contract with Real Madrid, Isco will stay in La Liga. Sevilla FC announced on Sunday that they have reached an agreement with the 30-year-old Spanish international attacking midfielder (38 caps), subject to a medical examination on Monday. This announcement is not a surprise. After nine years at Real Madrid, Isco was tipped to move to Sevilla where he will therefore join his former coach Julen Lopetegui, who briefly moved to Real in 2018. He commits himself for 2 years.
OTHER CHAMPIONSHIPS
Denis Bouanga joins the Los Angeles Football Club
Denis Bouanga, who has been a member of the Stephanois team for three years, has signed a four and a half year contract with the American franchise. According to several sources, the amount of the operation is estimated at 5 million euros. Under his new colors, the 27-year-old player will cross paths with Carlos Vela but also with former Madrid players Gareth Bale and Giorgio Chiellini, who arrived at the club last July.
(EXTENSION) – PSV announces contract extension for Ivorian international midfielder Ibrahim Sangaré
PSV announced this Sunday the contract extension ofIbrahim Sangaré (24 years). He is now tied to the Dutch club until 2027. The Ivorian international was in the sights of several European clubs, especially in England. Last season, Sangaré made a total of 49 official appearances, scoring 4 goals, including 1 in the Europa League. A very good news for the Dutch formation which manages to keep one of its best elements.