Euro 2022: the French beat Germany in the semis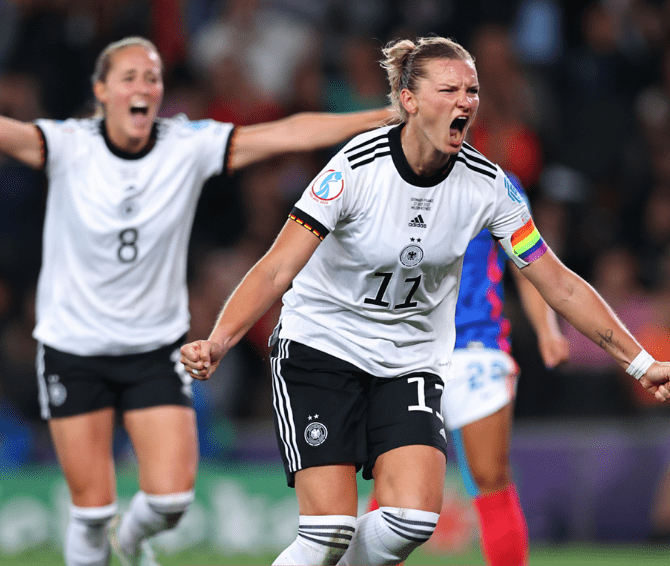 THE BLUES BEATEN IN THE SEMIS BY GERMANY
The dream of greatness ends for the French team. Les Bleues were eliminated by a strong German team in the semi-final of the Euro (2-1), Wednesday, July 27. In the second half, the French finally cracked in the last quarter of an hour in front of the German determination and technique. Despite Kadidiatou Diani's equalizer just before half-time, the hopes of the French were dashed by the irresistible Alexandra Popp, who scored a magnificent double.
The French team was playing its first Euro semi-final. She was able to see the differences between them and a top European team. After the break, with the score still at 1-1, the French team attacked the German surface, but without being able to break through the opponent's defense. Selma Bacha, Wendie Renard, Kadidiatou Diani and Clara Matéo successively came up against the German rearguard.
Alexandra Popp, an unshakeable coolness
On the other side of the field, Alexandra Popp, who scored the opening goal in the first half, had only one chance to score twice and put an end to French hopes (76th). This makes six goals in five games for the German striker. Faced with this solidity, the French had tried to hold their rank in the first half, supported by some beautiful combinations between Delphine Cascarino and Grace Geyoro on the left side. In front of a mostly German audience, Corinne Diacre's players had applied themselves to build. But they were at fault, like Sandie Toletti, who was cautioned in the 20th minute of the game, giving the Germans good chances from set pieces.
Regrets for the Blues
Pauline Peyraud-Magnin made a superb save from a direct free-kick, applauded by the entire stadium, before the defense finally broke down and France found itself behind for the first time in the tournament. Kadidiatou Diani had also thought to revive the French by equalizing in the wake, just before halftime, with a shot that hit the post and then the back of the opposing keeper. A goal finally insufficient to overcome this German team.
The players of Corinne Diacre leave the competition on a great disappointment, at the doors of the first final of their history. It is the Germans who will meet England at Wembley (London), Sunday, July 31, to try to win a ninth title, against the host country.
⏰ 𝗥𝗘𝗦𝗨𝗟𝗧 ⏰

🇩🇪 Alex Popp's brace sends Germany through to their 𝑵𝑰𝑵𝑻𝑯 Women's EURO final! 👏👏#WEURO2022 | #GER

– UEFA Women's EURO 2022 (@WEURO2022) July 27, 2022